Request for Junior BETA volunteers at your next project
Please vote for your club shirts now!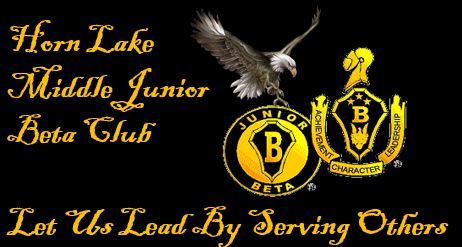 HLMS Junior BETA honor society

"We are the BEST in the NEST"
Sponsor:
Mr. Steve Clark
Officers:
President: Loretta Avina

Vice President: Destiny Christie

Secretary: Shaquera Jordan
Treasurer: Zoe Christie

Member Representative: Anna Trillet

Sign up for Service Projects:
Click here to signup for HLMS service opportunities.
Service Forms are due by December 6th. Please place in the labeled folder outside room 236.
Activities:
1) BETA induction ceremony
2) Community Service opportunities
3) School Service opportunities
4) Fundraisers
5) St. Louis Trip
6) Space Camp Trip
7) Sea Camp Trip
8) Awards Banquet
Members:
Sign up for Remind for important updates. Just text @beta to 81010 to sign up.
National Junior BETA Club REQUIREMENTS
Membership Criteria:
Academics: 93% overall GPA. (Students must show their Progress report to Mr. Clark each Semester and can NOT have a failing grade in any class.)
Service: Must provide 10 hours per semester of volunteer service (conducted by the student without compensation).
Character: Positive character qualities of the BETA creed.
DISCIPLINE
Students who have been suspended may not be admitted to the NJHS

Membership will be revoked from students who have been suspended in or out of school while in the NJHS

Students who have received three or more ALC days during the three consecutive quarters will not be admitted to the NJHS

Membership will be revoked from students who receive ALC two or more times in a school year.
CHARACTER
Students caught cheating in the year of admittance will not be admitted to the BETA.

Membership will be revoked from students caught cheating.

Students must be respectful to teachers, administrators and students.

Significant teacher concerns regarding a student's character will be taken into consideration for probation.

All input on a student's character must be documented and forwarded to the Sponsor for review.
COMMUNITY SERVICE
10 hours of community service is required each semester.

Students are required to participate in one school sponsored project each semester.

Forms will be distributed to students to be filled out by the the responsible party